Fitbit SimpleCalendar Operations

(last update 2021-08-31 Version 4.2.07 - Version 5.2.07 [Versa 3 & Sense])

Professional Calendar

| | |
| --- | --- |
| Calendar Week starts Sunday | Calendar Week starts Monday |
Quick Guide


Navigation

Use << to go to a previous year
Use >> to go to a following year
Use < to go to a previous month
Use > to go to a following month
Double tap of the calendar view to return directly to the month view of today

Long press to get to the calculation screen to select specific dates
Scrolling
Swipe Up to go to a previous year
Swipe Down to go to a following year
Swipe Right to go to a previous month
Swipe Left to go to a following month
Tip: To scroll, tap a Date in the calendar and drag it either horizontally or vertically for best results
Date selection and Calculation [from Vx.2.02]

Long press calendar to enter this mode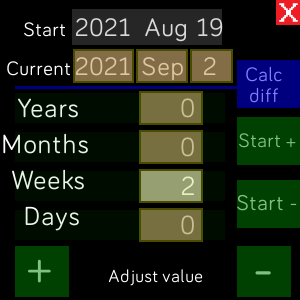 To consult your Agenda


Double tap any part of the start date to open the Agenda
This assumes the App is available on your watch


To select a specific date
Select any of the three "Current" [year, month, day] fields

Change the value as required using the 2 Adjust buttons ["+", "-"] at the bottom.
Tapping the close button returns to the calendar for the year and month selected in "Current"
The selected day in that month will be highlighted in green


To add/subtract units to a date

Select any of the four date adjustment fields [years, months, weeks, days]

Adjust the value using the 2 Adjust buttons ["+", "-"] at the bottom.
The chosen values can be added or subtracted from the "Start" date by
using the "Start +" or "Start -" buttons
The result will appear in "Current"

Tapping the close button returns to the calendar for the year and month selected in "Current"
The selected day in that month will be highlighted in green
EG. To find the date in a fortnight [ 2 weeks] from now [see photo above]
Select Weeks, tap "+" twice, tap "Start +", the date will be shown in "Current",
close this mode and the calendar will display that date in green

To calculate date difference from currently showing calendar month

The "Start" date will display today's month and day [in red] or the last selected month
Select any of the four date adjustment fields [years, months, weeks, days]

Adjust the value using the 2 Adjust buttons ["+", "-"] at the bottom.
The chosen values can be added or subtracted from the "Start" date by
using the "Start +" or "Start -" buttons
The result will appear in "Current"

Tapping the close button returns to the calendar for the year and month selected in "Current"
The selected day in that month will be highlighted in green
To calculate date difference from 2 specific dates

Similar to the previous method
Long press the calendar, adjust the "Current" date to be the first desired date
Tap the close button and immediately long press again
Now "Start" date will contain the first date for calculation

Adjust the "Current" date to be the second date
Tap "Calc diff" to see the days between the 2 dates.
Tip: The 2
Adjust
buttons at the bottom are both single, and if held, multiple value adjusters.
The field will continue scrolling values for as long as the button is held.
Other features

To do an immediate close of the SimpleCalendar, press the back button.
To see the About and then close, two separate clicks on the Year.
Or after a couple of minutes the App will auto close.

On close the clock will be shown again automatically.

New: Time Zone now shown in the About screen - useful for checking watch setting time zone

To change the first day of the week between Sunday and Monday, double tap on the Day title row.

It will automatically default to the value chosen in the Fitbit App settings at each start up

Watch integration

SimpleCalendar must be installed separately on the watch to be used as an Addon for SimpleClockPro see: http://guytec.com/Fitbit
Once installed, SimpleCalendar can be started by clicking on SimpleClockPro, Day of the week
Standalone mode
SimpleCalendar can also be installed as a standalone App, in this case,

Tip: For Sense and Versa 3 watches, Use the watch Settings to assign SimpleCalendar
to the watch long press short-cut for easy starting
For All watches SimpleCalendar can alsobe moved to the first Apps screen
Calendar releases (V4 - Ionic & Versa's, V5 - Sense, Versa 3)

Vx.2.07 - 2021-08-31

Added Agenda access
Date calculation consistency improvements [JavaScript rules]

Vx.2.05 - 2021-08-30

Improved direct jump to the month of today
Vx.2.04 - 2021-08-23

Add direct jump to the month of today
Display improvements for calculations

Vx.2.02 - 2021-08-20

New date selection and calculation facility added
Vx.1.21 - 2021-07-19

Tactile feedback given for all activities
Vx.1.20 - 2021-07-05

New: Quick close added - double click on Year

Tactile feedback given for some activities
Vx.1.19 - 2021-06-24

New: First day of the week can only be changed by tapping the Daily title row [reduces inadvertent change]
Tactile feedback given when scrolling to help with the motion

Time Zone display added in About display for verifying watch settings

Vx.1.18 - 2021-06-16

First day of the week defaults to Fitbit App settings [can still be changed]
Vx.1.17 - 2021-06-14

Improved closing sensitivity
Vx.1.16 - 2021-06-13

Improved today date display

Added scrolling

Vx.1.11 - 2021-06-07