Fitbit CasioWorldTime Operations

(last update 2023-04-03 Version 4.2.07 (Versa 1 & 2) Version 5.2.07 [Versa 3 & Sense])
| | |
| --- | --- |
| Main screen | Time zone |
Quick Guide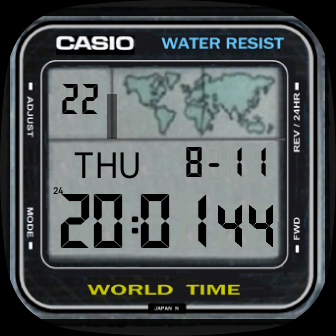 Showing optional battery level indicator
to the right of year
Emulation of the Casio World Time A300U watch with true digital LCD characters

Functional vintage time piece with the following configurable features

To change between dd-mm and mm-dd date format, tap the date displayed

12/24 hour display - to change format,

select the desired time mode
Submit and sync

or use Fitbit app, App settings


Tap on World map to see your Time Zone, in UTC mode and if in DST

To change Time Zone

in the Fitbit App,

click profile photo,

App Settings,
turn off Automatic time zone and Automatic location,
select the desired time zone and sync the watch

Tap on the 2 digit year [above day of the week] to see stats information and version.

Each tap brings the next information, last tap closes the information window or it closes automatically after a few seconds.

Stats include, in order:

Steps
Heart rate
Active Zone minutes
Floors
Battery level
Version

Tap on any stat to keep it active on the display. Background pales to show it's live.

If Battery level has been selected, clicking on it again can be used to turn on/off the battery level indicator next to year.
After you can select any other values than battery to show.

To revert back tap on the year and it reverts back to info mode.


CasioWorldTime releases (V4 - Ionic & Versa's, V5 - Sense, Versa 3)



Vx.2.07 - 2022-10-14

Added Versa 2, Versa and Versa lite

Added ability to have a local DD-MM format instead of default MM-DD
V5.2.06 - 2022-08-12

Added battery level and battery level indicator [can be combined or independent]
Added retaining settings

V5.2.04 - 2022-04-06