The Versa 3 and Sense have a very sensitive pressure sensor incorporated in the watch.
This measures the slightest change in pressure.
As atmospheric pressure changes with temperature and altitude
it can detect changes in floors and many other conditions.
This tool will enable you to check if your watch is correctly detecting pressure changes,
about once per second, and also see how the advanced algorithm
handles the changes in floors when going up stairs.
The app must run continually and it's Always On mode has been tuned
to use the least amount of battery
but it does provide an Always On Time display as a side benefit.
From time to time the last floor pressure will change colour as
it is adjusted to the new situation, using the various different algorithms.
Operation

The watch button is used to wake or switch modes.
Double tap the Always On screen will switch to Active mode.
The proper ways to
Exit
the app are:
Double tap the central pressure - Quick exit
Tap on [the close button] - shows About information

Special Operations
By tapping on Stayon
symbol it can be toggled, green or red.
When green, the display can be kept on for 2 minutes before going to Always On mode.
When red as soon as the display timeout occurs it goes to Always On mode.
The minimal Always On mode is to save battery while continuing to measure floors in background.
Screen Composition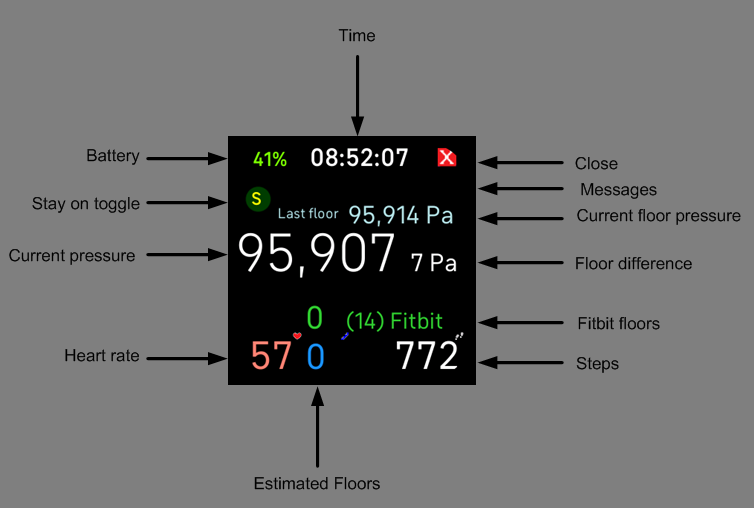 1. The top row shows Battery level, Time and Close About button


2. Next, action and status indicators and
Last floor is the current pressure registered for this floor

3. Next, The main pressure is shown, along with the deviation from the current floor pressure


4. Next, For comparison purposes, the Fitbit Floor counts are shown in green. Both session and total are given.


5.The bottom row shows Heart rate, app calculated Floors* and Steps.



* The app calculated Floors [in blue] are for information only to see how well your watch is performing to the special algorithm.
They won't be reflected in the Fitbit App Floors.

Note: The Floors shown by this App are for information purposes only
as the Floors shown in the Fitbit App cannot be modified.

Floors releases (V5 - Sense, Versa 3)


V5.2.13 - 2022-01-21