Double tap on the heart rate position (left bottom corner, Analog or Digital view)

to reach the Settings screen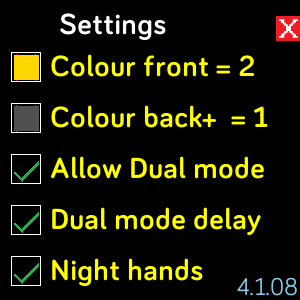 Changing colours
- useful for enhancing visibility
(See Colour scheme of the 24 colours to choose from below)
Tap Colour front to change hands and digit colours [sample in the square]
Tap on Settings, to hide / show minute segment background,
Colour back will change, to/from

Colour back- indicates no minute segment background visible

Colour back+ indicates minute segment background also visible
Tap Colour back- to change background hour segment colours [sample in the square]
Tap Colour back+ to change background hour & minute segments colours [sample in the square]
Tip: Special Setting :
Changing the "Colour back" setting to 2 (Black)
It will hide the hour hand segment (and minute segment) background from the view.
In this mode the digital Hour will follow the hour hand as it moves through the hour

Night hands will always take precedence at night over colours chosen, if enabled

Tap Dual Stats mode - controls if stats show on Analog screen
Tap Dual mode delay - controls if quick look without stats or immediate with stats on wake

Tap Night hands - controls if fluorescent hands show between 8 pm and 7 am
Tap the red X to return to the watch view -
the display will blank and refresh with the new settings.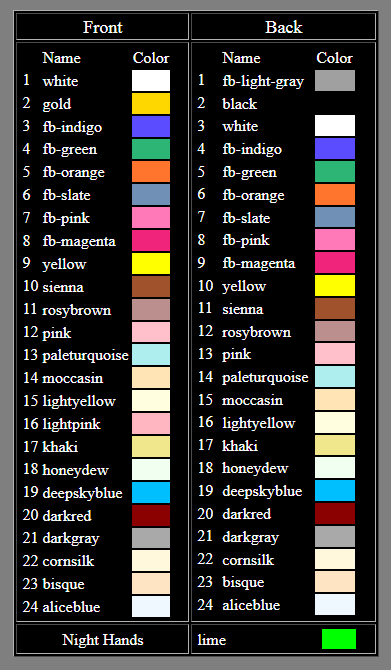 Note: With over 500 colour combinations possible, a quick way to RESET the colours is to uninstall the clock face and reinstall it.
Switching to Digital mode


Tap on the
Analog
centre hub to see
Digital
view, and tap on
Hour
to return to
Analog
view

Configuring Digital mode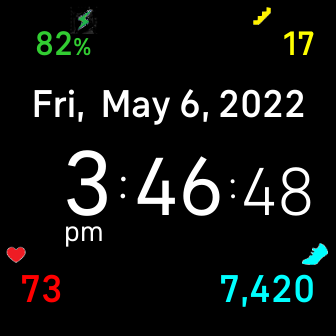 12/24 hr mode - to change format,
visit
https://www.fitbit.com/settings/profile
select the desired time mode
Submit and sync
2 different date formats can be seen based on country

visit
https://www.fitbit.com/settings/profile
select the desired "language by region/country"
Submit and sync
One format if country is US
another format for other countries
There are four stats shown, with 3 fixed stats and one configurable
Heart rate [red]
Battery [green, or low warning orange or red]
Steps [cyan]
The top right stats is configurable [by default it is Floors]
Double tap top right value on the Digital view - it will flash
While flashing each tap will advance to the next value of the following items:
Floors [yellow]
Calories [turquoise]
Distance [orange]
Active Zone minutes [pink]
Additional language support

German - mehrsprachige deutsche Kurzdaten
Spanish - fechas abreviadas multilingües en español
French - dates multilingues français abrégées
Italian - italiano multilingue date abbreviate
Dutch - meertalige Nederlandse verkorte data
Norway - flerspråklige norske forkortede datoer
Swedish - flerspråkiga svenska förkortade datum
Restart & Version
To see the version & langauge briefly
Switch to the Digital view [tap on the Analog centre hub]
Restart the clock face, swipe the watch face to the left and click on Settings, then press the button
Each time the clock face starts with the Digital view it will briefly show the version and language

To see just version, double tap heart rate to see it in the Settings view.

SimpleHybrid releases (V5 - Sense, Versa 3)

V5.1.08 - 2022-05-16

Improved display
Added background colour management

V5.1.06 - 2022-05-10